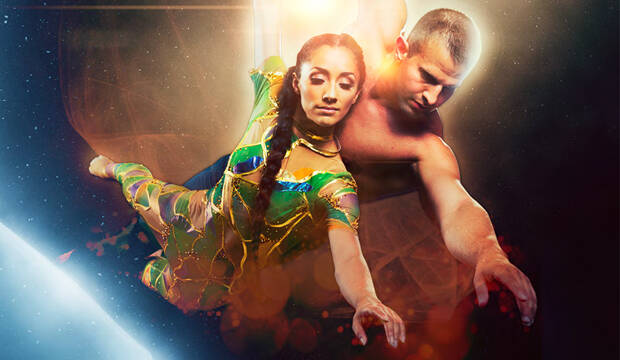 Halcyon Aerialists will perform at the Richland High School Auditorium, on September 17, 2019, at 7:30pm.
Halcyon was established in 2017 with the mission of creating a new genre in theatre known as theatrical acrobatics; which seamlessly integrates compelling storytelling and characters with world-class acrobatics and aerial. Our new production, Aureum, combines these elements with an incredible original soundtrack and high-flying technical elements that would only otherwise be possible in stadiums. With an award-winning cast and a rich narrative, our shows promise an unforgettable experience for the whole family!
Aerum is told through heart-stopping aerial routines and amazing acrobatics. A time traveler meets the beautiful defender of nature's power – only to find that power threatened by dark forces. Thrill to the original music, choreography, and some never-seen-before aerial performances by six aerialists.
The benevolent White Queen of Aureum and her warrior guardian welcome twins into the world. Knowing that the White Queen's bloodline is the only way to gain control of the powerful magic of the Seed, the Red Empress, seeking to gain ultimate power over Aureum, hatches an evil plan to kidnap one of the twins setting our tale in motion.
The Seed commands the forces of nature and imbues its carrier with immense power and strength. In the meantime, a young academic has discovered a key that magically transports him to Aureum where he stumbles into a world of wonder and the fascinating characters who staunchly defend it. Through the sorcery of the Red Empress, a gathering of dark powers threatens the tranquil world of Aureum, and its inhabitants must find a way to protect it at all costs. Aureum is a story of finding love in the most unusual places, and how the bonds that unite us are stronger than those that divide us.
Read more about the Halcyon on their website: halcyonshows.com