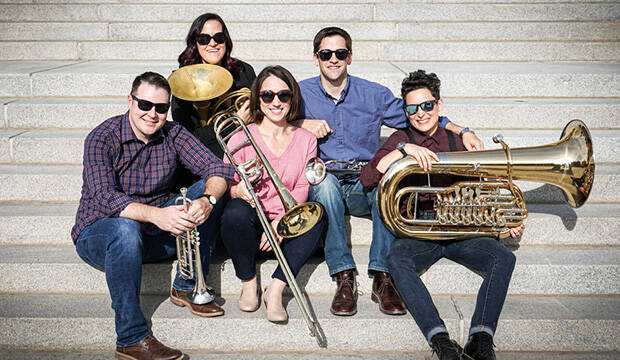 The quintet comprises Matt Vangjel and J. Peyden Shelton on trumpet, Jessie Thoman on horn, Sarah Paradis on trombone, and Steph Frye-Clark on tuba. These five musicians share an admiration and respect for each other not only on stage and in music, but also in friendship.
Founded in 2009, Mirari has performed extensively across the United States, forging connections with audiences through lively and polished performances. The group has performed and presented outreach programs in 30 states, numerous universities, conferences, and festivals. In 2017, the group made their first international trip to China, performing concerts and presenting educational outreach programs in Beijing, Haerbin, Dalian, and Chongqing.
In addition to being outstanding performers, the members of the Mirari Brass Quintet share a passion for music education and are all collegiate professors of music. The group relishes and seeks out extended time to interact with young musicians by leading masterclasses, offering group and individual instruction, as well as presenting clinics on topics such as brass fundamentals, the art of chamber performance, and entrepreneurship. To share their knowledge and experiences with musicians and music lovers alike, Mirari has a podcast, "Mirari: UNMUTED," available on Spotify and iTunes.