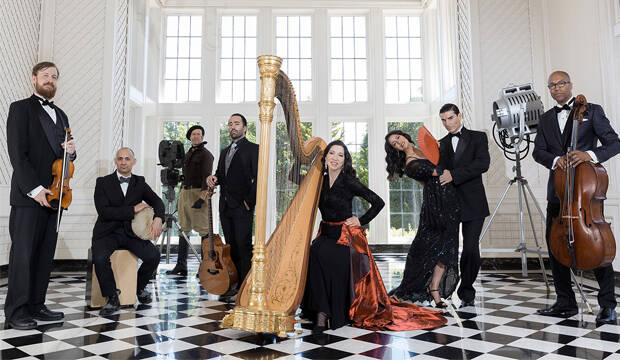 Leading you through the tight turns, dips and smokey cafes of Argentina, concert harpist Anna Maria Mendieta's "Tango Del Cielo" (Tango of Heaven) is an exciting multimedia concert-show performing the passionate and sensuous music of the Argentine Tango and the dramatic and fiery Spanish Flamenco. Bringing together: harp, strings, percussion and dance — we invite you to experience this wholly captivating music in a way never before presented!
With standing ovations nationwide, "Tango Del Cielo", a unique theatrical music and dance program features a fusion of many Latin styles including Argentine Tango, Flamenco, Spanish Classical, and Latin Jazz. Tango Del Cielo concerts are especially entertaining with a tribute to the Silent Films, incorporating multi-media use of film art, staging, lighting, and effects. The
Special music arranged and composed by Grammy Award winner and Academy Award nominee Jorge Calandrelli, Grammy Award winners Pablo Ziegler, and Daniel Binelli. Musical contributions by Grammy nominees Jovino Santos Neto, and violinist/composer Jeremy Cohen of Quartet San Francisco.
Read more about the Tango del Cielo on their website: tangodelcielo.com
What the Press is saying about the Tango del Cielo:
"What Anna Maria is doing with the harp and tango is fantastic! And the audience loves it!"
– PABLO ZIEGLER, 2006 Grammy Award winner for Best Tango Album
"The American Harp Society's big conference was an incredible experience…an opportunity to hear the world's best harpists… let me mention one enchantingly wonderful group, Anna Maria Mendieta and her ensemble. While the music was fantastic, a complete surprise was when the dancer extended a hand to harpist Anna Maria and she accepted. Wow, the music went on, the dance went on, then he escorted her back to the harp for the finish. I was glad I hadn't skipped that concert."
– KATHY CHALIE, Chapter President, American Harp Society