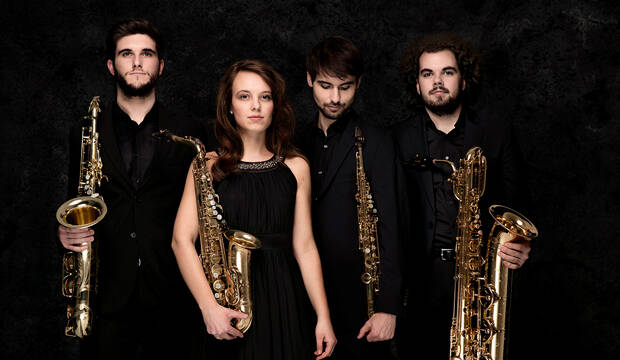 With charismatic and authentic stage presence, this quartet sets audiences aflame with their enthusiasm and passion for their rare form of chamber music. The four saxophonists from Munich bring world-class technique together with bright and joyful performances to create an indescribable concert experience. A wild explosion of rhythm and colors and their gripping musicality makes them outstanding and unique. They have a wide artistic range, and perform everything from Bach to Gershwin.
With burning passion, the four young musicians from Munich inspire the audience and let the spark pass through their charismatic and authentic stage presence in this rare formation of chamber music.
The year 2013 was marked by important international successes: 1st prizes in Munich (additional Audience Award), Gioia del Colle (Italy), Moscow (Russia), 3rd prize in Chieri (Italy), followed in 2014 a 2nd prize in Berlin, 2015 a 1st prize in Magnitogorsk (Russia), 2016 A first prize in Berlin.
In addition, the ensemble was awarded the Bavarian Art Promotion Prize 2016 and received a scholarship from the Theodor Rogler Foundation, a scholarship for music from the state capital Munich as well as a scholarship from the Ernst von Siemens Music Foundation.The ensemble was founded at HMT Munich in 2009 and studied chamber music in the class of Artemis.
Read more about the Arcis Saxophone Quartet on their website: www.arcissaxophonquartett.de
What the Press is saying about the Arcis Saxophone Quartet:
"A super ensemble that is 'still burning, innovative and wild on high-quality music making.'"
"Ein Super-Ensemble, das "noch brennt", innovativ und wild aufs hochqualitative Musizieren ist."
– ENJOTT SCHNEIDER