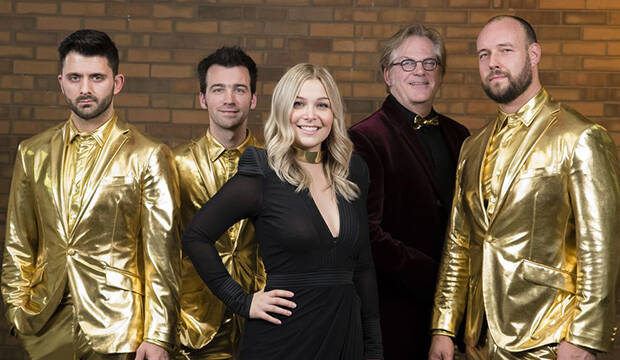 CANCELLED DUE TO COVID. Lost Fingers Vocal Quartet will perform at the Faith Tri-Cities Auditorium, on April 30, 2020, at 7:30pm.
---
An acoustic trio and vocalist, the Lost Fingers named after the two missing fingers of jazz legend Django Reinhardt and based in Quebec City, Canada, are known for their love of classic gypsy jazz, and '80s pop hits. Their shows are a blending of both – seemingly disparate — styles, – covering hit '80s tunes as well as playing homage to jazz legends. Their reputation and skill have won them a great many fans very quickly. The group, soon after forming, was playing some of the world's best-known festivals, including a ten-night stand at the Montreal Jazz Festival.
After conquering Quebec with its first album Lost in the 80's, which has gone up to more than 200000 copies, the Lost Fingers is a party to the conquest of Canada and Europe, garnering several distinctions notably at ADISQ and the Juno awards. November 2016 marks the appearance of its first Christmas disc, its sixth in total. This is Christmas Caravan.
Recorded at the B-12 Studio in Valcourt and directed by the American John Jorgenson — collaborator of Elton John, Johnny Cash, Willie Nelson and Pavarotti — whose work was hailed from several Grammy awards, the Christmas Caravan album by the Lost Fingers Group is a festive invitation to a musical journey around the world! A journey in which the Jazz Quartet — composed of guitarists Byron Mikaloff and François Rioux, bassist Alex Morissette and singer Valérie Amyot — revisits 12 pieces of Christmas, classic songs or pretty finds, style, period and of various origins. White Christmas, Frosty The Snowman, Mele Kalikimaka, we Three Kings, Greensleeves, Go Tell it on The Mountain, What are Doing On New year's Eve, Zat you Santa Claus?, This Christmas, Auld Lang Syne, The River — so many bold and unique readings, rearranged In a way that is sometimes sophisticated, sometimes crazy… The way of the Lost Fingers!
Among the many renowned collaborators who have lent their talents to the creation of this sixth record, are the French Biréli Lagrène (on the classic Auld Lang Syne), one of the best gypsy jazz guitarists of the planet, considered by some As the heir to the throne after Django Reinhardt; The Spaniard Germán López, the "Paco de Lucia" of the Canary Islands, player of Timpe, small guitar with 4 or 5 strings; Admiral Amiri, Iranian virtuoso of the santor; The brilliant percussionist of Quebec and Moroccan origin Kattamainsi as the great Kim Richardson.
Read more about the Lost Fingers Vocal Quartet on their website: www.thelostfingers.com/en